NeoGen Plasma
Resurface, Regenerate and Tighten Your Skin
FDA and CE cleared NeoGen Plasma by Energist is a revolutionary non-surgical treatment that uses Nitrogen Plasma Technology with unparalleled results. NeoGen works its magic by converting nitrogen gas into plasma energy. The results are dramatic! 
Why does NeoGen Stand Out from The Other Devices?
NeoGen is a one-of-a-kind skin resurfacing treatment that excels in skin rejuvenation for the face, neck, chest, and hands. NeoGen provides a unique deep tissue remodeling with rapid healing with Nitrogen Plasma Technology. The device delivers controlled heat to the skin surface without stimulating a significant response and does not create an open wound like most aggressive ablative CO2 treatments. The downtime with NeoGen Plasma is significantly less. Patients see visible results even with just one treatment. Once the device converts plasma to energy the device heats up the surface of the skin (the dermis). With precision the treatment causes controlled damage to the skin that stimulates your own body to jump into action with a natural healing process. After the surface of the skin is treated with passes of the device new collagen is created underneath the surface of the skin. With a variety of energy levels, the skin will shed its outer layers. The energy goes deep into the dermis tissue resulting in a protective outer layer to the treated area. The healing process begins immediately, and skin starts to regenerate. Peeling starts within 3-5 days of the treatment. Gradually the old epidermis is naturally shed as the new upper layers of the skin emerge. After peeling the new skin has a renewed look and feel, better tone, texture, and overall tightening.
Common Treatments for NeoGen Plasma
-Tightens and improves the upper eye area including the eye lids with results similar to blepharoplasty surgery. The device can go all the way to the lash line. Patients see not only improvement in skin texture but achieve a lift as well to the eye area.
-Improves the skin under eyes including dark circles and bags. Sagging skin is improved along with fine lines and wrinkles.
-Overall skin tightening and improves laxity by boosting collagen production.
-Treats acne scars and other scars on the face or body.
-Dramatically improves fine lines and wrinkles including deep wrinkles.
-Treats skin pigmentation, sun damage and age spots.
-Tightens and tones the jawline and jowl, and areas around the mid face from the corners of the nose to the mouth.
-Industry leader in treating the orbital eye area without traditional surgery.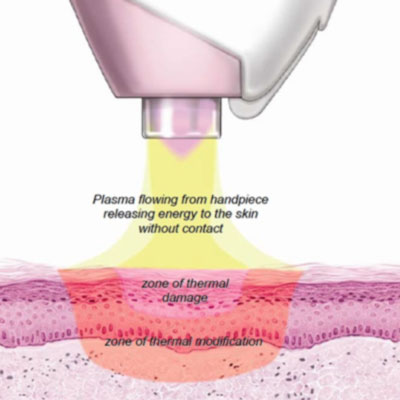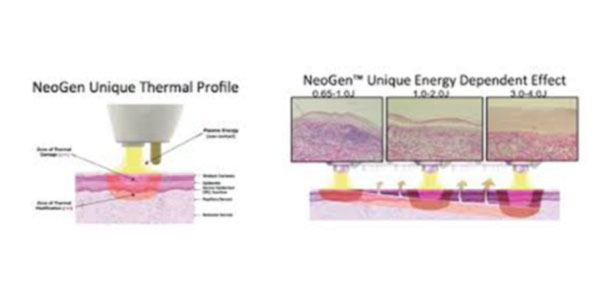 Pros and Cons of NeoGen Plasma
The pros
-Pick your level of treatment. Patients can choose a one and done treatment with a higher power setting of 3.0 or greater. The higher power setting (PSR) requires only one treatment and has a down time of approximately 10 days.
-Choose are series of 3 lighter treatments with a power setting of 1.8 or higher (PSR) The 3-treatment series will still deliver desired results with a much lighter amount of down time, redness, and peeling. Patients usually get 3 treatments approximately 4 –6 weeks apart.
-Just one treatment provides visible results and improves skin tone and texture. Fine lines and uneven skin tone improve within the treated area.
-Results are long lasting after one high power (PSR) or a series of 3 treatments. Depending on the age of the patient and the condition of the skin, some patients will require another treatment in approximately one year. Other patients may see visible results for years.
-Results are similar to CO2 Fractional Laser without the outer injury to the skin and long healing process. NeoGen can protect the outer layers of the skin while the new skin emerges to the surface. The skin heals from the inside out.
-The lower energy settings make the treatment safe for skin types 1-4
-Improve the upper eyelids. Studies show an average contraction of the eyelid skin to be approximately 22 percent without the downtime of surgical blepharoplasty.
The Cons
-Most patients will need more than one treatment to reach their desired results.
-High energy treatments may require a full 10 days of downtime and have significant redness and heavy peeling for up to a week.
-High energy treatments have some discomfort like a rubber band snapping even after a topical anesthetic is applied. The skin feels sensitive and can be uncomfortable for several days prior to peeling. The skin may be red prior to peeling.
-The higher-level (PSR) treatments are best suited to best suited to fair to medium skin tones.
-With all skin rejuvenation procedures, you will need to maintain great skin care at home and protect your treated area from the sun.
What to Expect During Your Treatment?
Prior to your treatment you will have a topical numbing cream applied to the treatment area(s). Depending on your intensity level you may experience some discomfort with the treatment with a higher PSR setting. Most patients who receive moderate treatments have some discomfort. A full-face treatment can take 45 minutes. Face and neck approximately one hour. Small areas such as the upper and lower eye lids take approximately 30 minutes. All treatments will end with a feeling of mild discomfort for at least one day. It is especially important to be very well hydrated prior to your treatment and continue to hydrate after your treatment. A hydrating mask is applied to your skin before you leave the office. Patients go home with post-op instructions and a skin barrier to keep in as much moisture as possible.
What about my recovery and downtime?
Recovery and downtime vary depending on the level of treatment you desire. You may experience some redness, inflammation, and peeling. Low energy treatments have less downtime. A small amount of redness with a mild sunburn feeling is typical with peeling on average for 1-3 days. You can usually be back in makeup within 5 days or so. Skin may feel dry and become itchy. Post procedure instructions will keep your skin very moist. Skin gradually dries out and naturally sloughs off. Once the skin fully peels you can go back to your normal skin care protocol with a gentle moisturizer and sunscreen.
When Do I Notice a Difference in My Skin?
Many patients notice skin tightening and tone within a few days. As your healing process moves forward your skin will become fuller as your collagen and elastin naturally rebuild. The outer surface of your skin will show improvement within 10 days after your treatment once the peeling is complete. Over the next 4 weeks your new skin will emerge and be glowing. Please remember this skin is delicate and it is vital you ALWAYS protect it when you are in the sun. It is important to avoid direct sunlight for several months. If you are out in the sun or even driving, you will need sunscreen of at least 30 plus and wear a hat for prolonged exposure to the sun.
If you are interested in this amazing procedure, please call us for a complimentary consultation so we can tailor a package that best suits your needs and overall goals.