IPL Photo Rejuvenation
IPL Skin Treatments
IPL with Dye-VL technology
Painless and very effective. Fractional scanning technology. Treats vascular lesions, pigmented lesions (freckles), rosacea, sun damage, and small facial spider veins. Dramatically improves over skin tone and texture plus stimulates collagen production for overall tightening and renewal. Dramatic skin improvements in areas of the face, neck, chest, shoulders, hands, arms, and legs.
Light Pulse Renewal is a combination therapy in the field of laser aesthetic care and treatment. It corrects and can actually reverse a wide range of skin conditions and facial imperfections. Regular IPL treatments treat and correct the signs of aging, improves skin tone and texture, and sun damage can be dramatically reduced and improved. IPL provides long-term improvements to the face, neck, chest, hands, and arms. 
Life cycle and hormonal changes can affect the distribution of color the melanin of our skin, leading to the appearance of all kinds of pigmented lesions. These include moles, freckles, age spots and melasma which may look like a mask on part of sections of your face. Most of these types of spots have come from various degrees of sun and damaged skin. A person's sun exposure, genetics and lifestyle are all factors that leave uneven and blemished skin in a multitude of degrees. Some skin lesions are different from vascular lesions which are not caused by sun damage and may even appear differently under dermatoscopy. 
Where do pigmented lesions come from?
IPL treats pigmented lesions on your skin which are usually brown, black, or blue in color due to blood vessels.
Age Spots
Sun Damage
Birthmarks
Broken Blood Vessels
Dark Spots
Discolored Skin
Fine Lines
Freckles
Acne
Rosacea Redness
Spider Veins
How does pigmented skin removal work? https://www.almalasers.com/treatments/aesthetics/pigmented-lesions/
Most patients purchase a package and maintain results several times a year for best results. For patients comfort a numbing cream may be applied if you have sensitive skin. The treatment typically lasts 20-30 minutes, with larger treatment areas taking up to an hour to complete. It is normal to experience what feels like a mild sunburn with redness for several hours, and skin pigment may come to the surface and last for several days after your treatment. IPL Photo Facial treatment therapy can treat your existing skin issues, but it cannot keep issues from reoccurring in the future. It's good to have a treatment plan and ask our staff when you will need to return for additional treatments to maintain your new look.
As with all cosmetic procedures, results may vary. Schedule your free consultation or appointment today with our experienced and licensed professionals at Advanced Laser Clinic of Modesto to find out if IPL treatment is right for your skin! https://www.modestoaestheticsandlaser.com/ipl-photo-facial-treatment-in-aesthetics-clinic-of-modesto/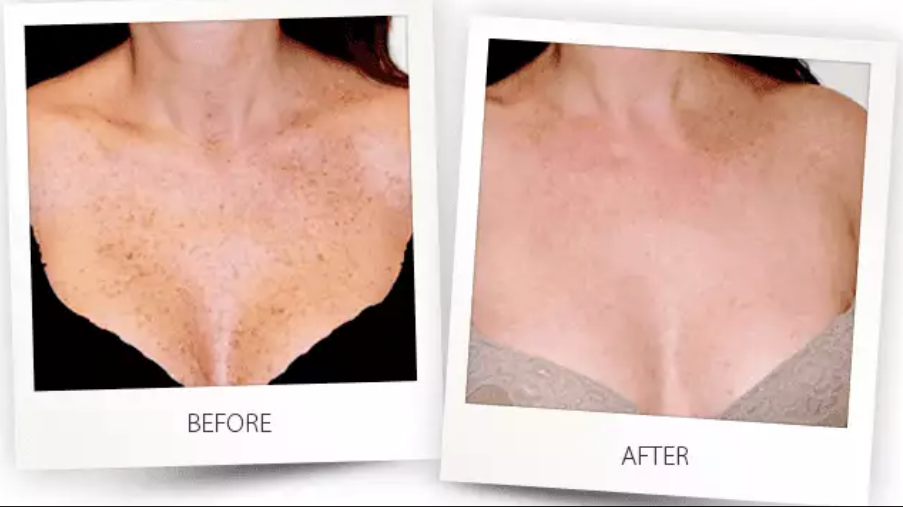 Say goodbye to the old ouch and sting of the older IPL devices! Call today to schedule your consultation.
---
Individual results may vary
Photo for illustration purposes only see our actual work
Have Questions About Photo Rejuvenation? We're Here To Help: 209-577-3340